Christmas Tree Safety
12/13/2017 (Permalink)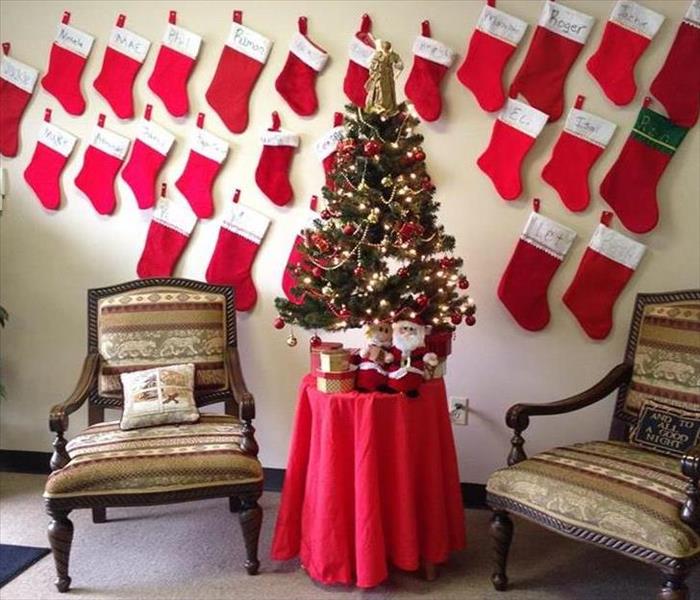 As the holiday song goes "It's the holiday season, so whoop-de-do!" During this holiday season, many of us have a beautifully decorated Christmas tree as part of the tradition to the season. It is important that the tree is carefully decorated to ensure a safe holiday season. Over the years, Christmas tree fires have been responsible for property damage. Most resulted from electrical malfunctions from Christmas tree lights such as faulty wiring, plugs, or even having the tree placed too close to a candle or fire place. To help avoid any fire damages, follow these simple steps.
Ensure trees are secured and sturdy in the tree stand to prevent them from tipping over
Use tested and UL-approved lighting when decorating trees or other holiday decorations
Carefully check light strands for frayed, faulty or exposed wiring, broken bulbs or loose bulb connections
Make sure to water live trees daily; dried out trees increases fire risk
Ensure artificial trees are fire resistant
Set up trees at least three feet away from heat sources (lamp, fire places, candles or radiators)
Make sure tree is not blocking an exit
Your safety is important to us during the holiday season here at SERVPRO of Sugar Land. If you experience any type of fire damage do not hesitate to call our team (281) 313-1338. Our team is here to help you when disaster strikes.