Drying Your Sugar Land Home
12/28/2021 (Permalink)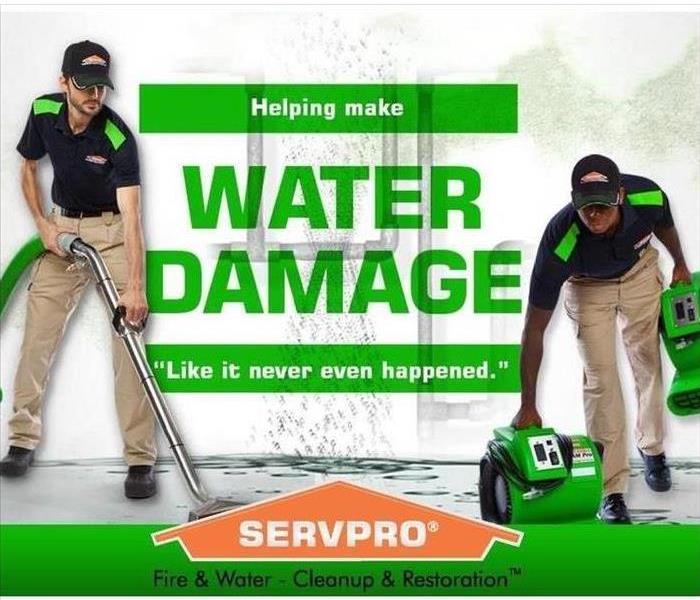 Don't let standing water wreak havoc in your home. Call the experts at SERVPRO of Sugar Land. We are always here to help!
Imagine you have family over to celebrate New Year's and suddenly the water pipe ruptures and instantly water is building up in your home. Water damage is one of the most common disruptions for homeowners. It usually happens at a time when you least expect it and when it comes to water extraction, drying quickly is key. SERVPRO of Sugar Land has state-of-the-art equipment to help homes dry out in a timely manner. Because every situation is different, our team uses different factors to determine the best way to quickly dry your home. Here are the following factors that our team considers:

Temperature
Hot air contains more moisture than cold air, the ideal temperature range for dying is about 70°- 90°. If heat isn't available, SERVPRO of Sugar Land can use portable heaters. Our technicians will also ensure the drying process does not release too much moisture in the air by using dehumidifiers.
Air Movement
Rooms with water damage are often damp and humid. Our trained technicians will use an industrial-strength air mover to blow warm, dry air in and to blast the moist air out.
Humidity
The measure of air moisture at a given temperature is known as relative humidity (RH). If the RH is over 60%, drying time will be slower because of the air's saturation. SERVPRO of Sugar Land uses dehumidifiers with air movers to lower the RH to provide optimum drying power.
Water Requiring Evaporation
Physically extracting as much water as possible at the scene is much more effective than using dehumidifiers. Our team will extract the water with submersible pumps, truck-mounted pumps that can extract 36,000 gallons per day, portable pumps, rovers for carpets, and squeegees for hard surfaces.

SERVPRO of Sugar Land is available 24 hours a day 7 days a week for water emergencies and if you continue to deal with excessive water, do not hesitate to call our team. We are always here to help when disaster strikes no matter how big or small the damage is!